Credit Management
Cash flow is the single most pressing concern of most small and medium sized businesses.
Cash flow is crucial for the survival and success of all businesses. The careful management of credit is essential to ensuring reliable cash flow in business.
The development of Credit Policies and Management Procedures and the continuous monitoring and enforcement of them is important for any business that supplies goods or services on credit.
Consider this; if you make a 10% profit on sales and are unable to collect a debt of $5,000, you will need to sell another $50,000.00 worth goods or services just to break even.
What is Credit Management
Credit Management essentially revolves around:
The evaluation of the credit worthiness or risk profile of a prospective or existing customer and the making of decisions to extent credit.
The use of Credit Applications to obtain trade references and lawfully obtain Credit Reports when required.
The making of effective contracts or agreements with customers (and guarantors) that reduce the risk of not getting paid.
The development and implementation of a Debtor Management Procedure, including the enforcement of credit limits and the timely referral of debts to Specialist Collection Agencies like us.
6 Steps to Improving Cash Flow
Complete the form below and we will send you our 'Guide to Better Credit Management - 6 Steps to Improving Cash Flow'. This Guide provides an overview of our approach to Credit Management by reference to the following simple steps: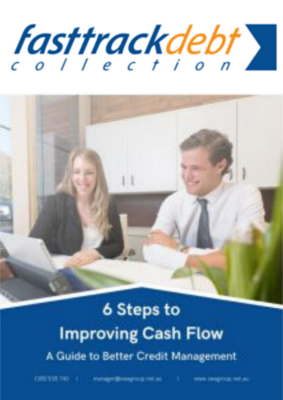 Step 1: Know Your Customers
Step 2: Make Effective Contracts
Step 3: Send Invoices
Step 4: Enforce Credit Limits
Step 5: Implement Debtor Management Procedures
Step 6: Use Debt Collectors & Lawyers at the right times.
If you have any questions or require any assistance please feel free to contact us.