6 Steps to Improving Cash Flow
We are Credit Advisory & Specialist Collection Agency. We take a proactive approach to assisting businesses with debt related matters.
In addition to DEBT COLLECTION, we can assist with:
Where to Begin - Credit Management & Client Engagement
The careful management of credit is essential to ensuring reliable cash flow in business.
Complete the form to below and we will send you our 'Guide to Better Credit Management - 6 Steps to Improving Cash Flow'. This Guide provides an overview of our approach to Credit Management by reference to the following simple steps: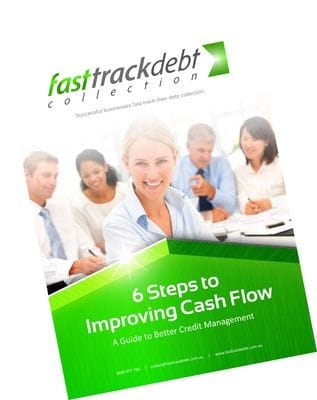 Step 1: Know Your Customers
Step 2: Make Effective Contracts
Step 3: Send Invoices
Step 4: Enforce Credit Limits
Step 5: Implement Debtor Management Procedures
Step 6: Use Debt Collectors & Lawyers at the right times.
Debtor Management
Statistically, the probability of collecting a debt drops between 60 and 90 days to around 73%. By 180 days you have only about a 50% chance of collecting at all.
By the time an Account is 90 days overdue, if a debtor actually intends to pay you, you should at least have made a Payment Agreement in relation to the debt which is being performed. If you don't, waiting any longer is usually a mistake.
Learn more about Debtor Management...
Current Overdue Accounts
If you already have debts more than 90 days overdue, what are you waiting for?
Debt collecting is a competitive sport - if you're not getting paid someone else probably is. Often the creditor making the most noise will get paid first.
Let us make that noise for you. It's what we specialise in.
Get Serious! Get Paid!
We know how to get your debtor's attention.
Call Now - 1300 530 743
How to Submit a Debt for Collection
Submitting debts for collection is easy and usually takes only 2 or 3 minutes.
Go ahead and put us to the test. Whether you have 1 or multiple debts, we have no doubt that you will be so blown away with our results that we will soon be the only Collection Agency that your business uses.
We collect debts fast. That's why we also buy debts.